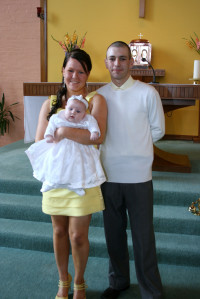 Welcome to Hi Tec Christening & First Communion Discos, Photography & Videos
Here at Hi Tec we can supply a disco for your Christening or First Communion with music to suit children & adults
We can also take photographs of your Christening or First Communion as a special package, and with a high definition video of the ceremony also available, and supply those on a DVD/USB, or upload to social media for you.
Please remember that we have many years of experience in many fields (literally in some cases), and if there's something special that you're looking for, then don't hesitate to telephone, email or text
Our Services
Recent Engagements
Proud Parents At Their Child's Christening

A photograph of their baby being christened with proud parents in attendance at a church in Glasgow recently.

The First Holy Communion Of A Young Man

Celebrating the First Holy Communion of a very polite young man at a local church in Glasgow

Let's All Do The Conga

Some children and parents enjoying themselves at a Christening party. You would never be able to tell which of them have been drinking and which were stone cold sober!!!!